View Pics
(28) |
View Vids
(2)
Send Message
View Journal
3mO_pRiNc3zZa
so why do good girls like bad guys?!
Name: Jacinda
Age: 27
Gender: Female
Orientation: Bisexual
Status: Single & Looking
Location: ..bitch puh-lease!, United States
Member Since: Jun 25, 2010
Last Login: Jul 15, 2012
About Me
RONNIE RADKE
JACKIE (FALLING N REVERSE)
DAHVIE VANITY
JAY VON MONROE XD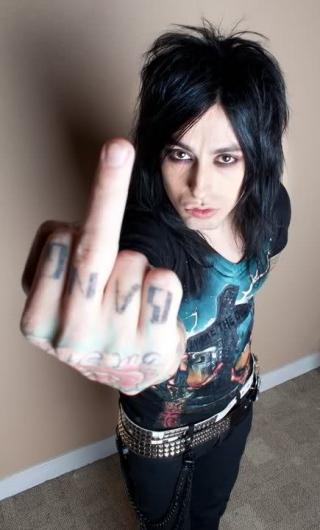 ..................your mom :D
Favourite Music
SCREAM FOR MY ICECREAM TELL ME ALL YOUR DIRTY DREAMS
SCREAM FOR MY ICCREAM SHOW ME WATS YOUR FANTASY!!!!!
-DAHVIE :D
Create a
MySpace Playlist
at
MixPod.com
Favourite Films & TV
Dear Whoever...
Can you hear me?
I am screaming
I am screaming
can you hear me
blood is dripping
nails are piercing
thorns are ripping
ripping through
i read the Tragedy
it comes to me in bloody broken dreams
you always loved me
never knew
these ironies of living free
I LIVE FOR YOU
I DIE FOR YOU
I LIVE FOR YOU
Favourite Books
IF U ASK IF IM BI OR STRAIGHT ILL JIZZ ALL OVER UR FACE XD
i hate the color blue
i love ronnie fucking radke
my favorite band is falling in reverse and alesana
i do not like fakes
your face will irritate me at times
i love to make new friends
i love to make new enemies
anything else u wanna kno tht i didnt post on here just ask
<3
Education / Occupation
love me or hate me but u wana fuck me my love is unrestricted u kno u wana lick this
- jefree starr
Who I'd Like To Meet
YOU AND ME N MY BEDROOM...xD
I do wat i want i say wat i want you dont like it suck my D******!!
My Links
http://WWW.MYSPACE.COM/jacindamireles@yahoo.com
http://www.youtube.com/watch?v=LRJGP0SFa4U&feature=relmfu

View All 3mO_pRiNc3zZa's Friends