View Pics
(15) |
View Vids
(0)
Send Message
View Journal
xXxRossAsphyxiatedxX
"Being happy doesn't mean that everything is perfect. It means that you've decided to look beyond the imperfections."
Name: Roselyn Cazares
Age: 26
Gender: Female
Orientation: Straight
Status: Single
Location: Los Angeles, United States
Member Since: Jan 04, 2009
Last Login: Nov 30, 2015
About Me

"If you are racist, sexist, homophobic or just basically an asshole, I don't care if you like me, or not. I fucking hate you." -Kurt Cobain

Introduction:
My name in Japanese is ロセlyn.
I'm way smarter than what I seem to be, "a bit" bipolar, clumsy, danger prone, irrelevant, smartass, trustworthy, sarcastic, pessimistic, vegetarian (March 14, 2011), loved, insomniac, loud, obnoxious, and a little insane.

Facts:
-At first I may come off as a bit of an asshole, but I am beyond doubt a nice person.
-Lamentably, I've been running out of real friends lately.
-I'm friendly and sarcastic, don't confuse it with flirting.
-I have trust issues, but I somehow trust strangers more than friends.
-I'm brutally honest.
-I believe trying is having the intention of failing.
-I don't judge anyone, I'm not god.
-I hate L.A. I don't know whether it's because of the lousy people in it, or the memories it has scarred me with. I can't wait to get the fuck out of here and forget every asshole I ever met.
-I say asshole, quite too much.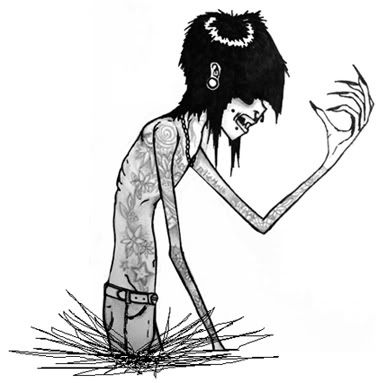 Favourite Music

BMTH, Asking Alexandria, Alesana, Bullet for my Valentine, Atreyu, The Misfits, Alice Cooper, SKID ROW, and Journey.


Favourite Films & TV

Girl, Interrupted.
Boy, Interrupted.
Donnie Darko.
What We Do Is Secret.
The Invisible.
The Butterfly Effect.
Crazy, Stupid, Love.



Favourite Books

Cut, By The Time You Read This I'll Be Dead, Stargirl, Flipped, Thirteen Reasons Why, One Heartbeat Away.


Education / Occupation

High school.


Who I'd Like To Meet
My Links
http://www.facebook.com/idreamofyoudead

View All xXxRossAsphyxiatedxX's Friends